What Daughters of Bilitis Achieved for Lesbian Rights in the U.S.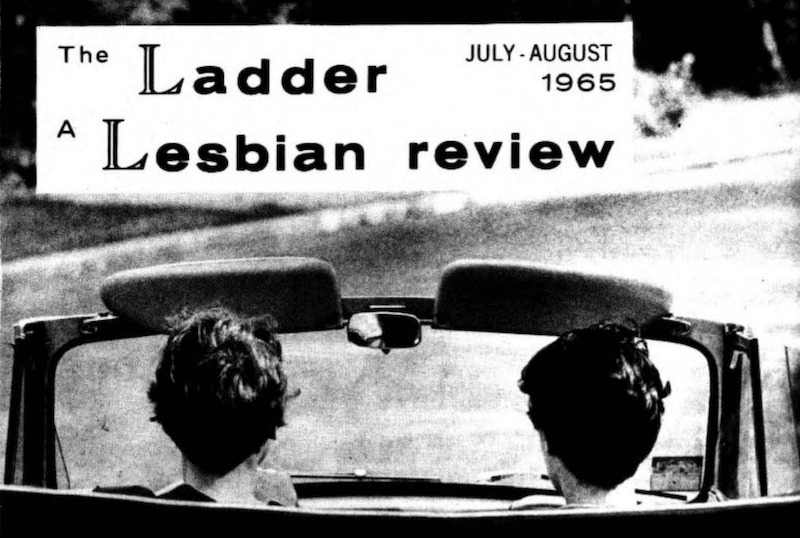 April 27, 2023 ~ By Shari Rose
The Daughters of Bilitis worked to decriminalize homosexuality in the U.S. during an era where being outed meant losing everything
Formed in 1955, the Daughters of Bilitis was America's first national lesbian organization and sought to decriminalize homosexuality – an act that was illegal everywhere in the U.S. Two founding members, Del Martin and Phyllis Lyon, dedicated their lives to legalizing homosexuality in the country and securing basic civil rights for the LGBTQ+ community. Nearly 50 years after the inception of the Daughters of Bilitis, Martin and Lyon became the first same-sex couple to be married in California. 
Del Martin & Phyllis Lyon Attend First Daughters of Bilitis Meeting
While working as journalists for a trade publication in Seattle, Del Martin and Phyllis Lyon met in 1950. Over drinks one night, Martin told Lyon she was gay. Lyon recalled in a 2004 interview that the prospect of being gay "seemed very exciting" to her. In the 1950s, simply talking about homosexuality was revolutionary, but coming out was considered a highly taboo act of the era.
Martin and Lyon soon began dating, and they moved in together in San Francisco three years later on Valentine's Day. New to the city, the couple did not know any other lesbians in San Francisco and struggled to connect with their community. 
"We were very shy," Del Martin explained in a 1989 interview. "And so, we sort of were more like tourists. Going to the bars and watching everybody and wondering how we fit in." 
Eventually they made some gay friends who introduced them to another lesbian couple in town. This couple was part of a small, secret group of gay women who called themselves the Daughters of Bilitis.
The Daughters of Bilitis (pronounced bil-EE-tis) name is a reference to The Songs of Bilitis, a collection of poetry published by Pierre Louÿs in 1894. The collection is a fictional tale of a woman named Bilitis, who was a contemporary of Sappho in ancient Greece. 
The woman who founded Daughters of Bilitis was a Filipina lesbian named Rosalie "Rose" Bamberger. She worked in a factory with her partner, Rosemary Sliepen, and hosted small meetings with other lesbian couples in her home. Phyllis Lyon and Del Martin started attending these secret meetings in 1955, which is believed to have initiated the organization's official inception. 
The Daughters of Bilitis Come Out
While the Daughters of Bilitis (DOB) began as a small gathering of gay women to support one another in San Francisco, both Lyon and Martin pushed for the group to do more. But that meant going public, and some members resisted the idea. 
In this period of American history, homosexuality was illegal everywhere. It was extremely taboo and dangerous to be gay, especially in the 1950s. Gay bars were constantly raided by police, and gay men in particular were viciously beaten and routinely arrested. Most LGBTQ+ people kept their identities a secret, because being outed meant losing their jobs, friends, social status, and personal safety. 
In an interview more than 30 years after joining the Daughters of Bilitis, Lyon spoke about the fear that gay people felt during this era. She explained that people remained in the closet because they were frightened of "losing their jobs, losing their families, losing their minds."
Still, Lyon and Martin believed it was necessary to extend beyond the interpersonal support that the DOB provided and explore advocacy as means to decriminalize homosexuality and secure basic rights for the LGBTQ+ community. This push caused a rift among its founding members, and both Rosalie Bamberger and Rosemary Sliepen left the DOB in 1956. However, they remained on the organization's mailing list until it disbanded in the 1970s. 
Del Martin and Phyllis Lyon officially called the first public meeting of the Daughters of Bilitis near the end of 1955 in San Francisco. 
More stories: Otherside Lounge: The Bombing of a Lesbian Bar in Atlanta
More stories: Why Is Bisexuality an Invisible Majority in the LGBTQ Community?
More stories: Crystal LaBeija: Iconic Drag Queen Who Transformed Queer Culture
Early Years of the Daughters of Bilitis
As the first lesbian organization in the United States, the Daughters of Bilitis worked to support gay women interpersonally, politically, and legally. It provided a mix of social support and networking for lesbians in San Francisco, while also advocating for the decriminalization of homosexuality in California. 
The DOB took its inspiration from the Mattachine Society, a gay rights organization that formed in 1950 with the purpose of advancing civil liberties of gay Americans. Within four years of its establishment, the Daughters of Bilitis had chapters in Los Angeles, New York City, Chicago, and Rhode Island. 
In 1956, the DOB released the first issue of its monthly magazine, The Ladder. This publication was the first national lesbian magazine. Drawing from her past journalism experience, Phyllis Lyon became editor while Del Martin served as the magazine's president. 
The Ladder provided a much-needed refuge for gay women in the U.S. As the publication arm of the Daughters of Bilitis, the magazine contained advice columns, long essays from famous lesbians, and articles from doctors and psychiatrists who advocated for making homosexuality legal. The Ladder and the Daughters of Bilitis sought to provide a safe place where gay women could understand one another and understand themselves. 
"DOB was a good 'coming out' place," Martin said in a later interview. "Where women could get their act together and find out who they were and be able to talk to others and hash it out. We felt that people get themselves together, and they can go out and cope with the world."
The Daughters of Bilitis Begin Advocating For Civil Liberties
In the early 1960s, the Daughters of Bilitis started receiving statewide attention. In 1960, the DOB hosted the first national lesbian convention in San Francisco with Del Martin and Phyllis Lyon at the helm. Two years later, Martin and Lyon met with California legislators to push for the decriminalization of homosexuality in the state. However, lawmakers told them they would only change California's sex crime codes if religious leaders provided their support. 
In 1964, the Council on Religion and the Homosexual was established. It was composed of 15 religious leaders, and 15 lesbians and gay men. Both Lyon and Martin served on the council. The purpose of the Council on Religion and the Homosexual was to join religous organizations and the LGBTQ+ community together and oppose the marginalization of gay people. 
The following year, San Francisco police raided a drag ball that was put on to raise money for the council. Queer attendees as well as several straight lawyers were arrested at the event. At the trial, dozens of lawyers joined the defense team, and the judge instructed the jury to find the defense not guilty. This trial's outcome helped establish San Francisco as one of the safest cities for LGBTQ+ people in the U.S.
As social tensions began to rise, the Ladder magazine became less passive and more explicitly activist as a pro-gay publication. Around this time, it became known to DOB members that the Daughters of Bilitis organization was being surveilled by the San Francisco Police Department, FBI, and CIA.
More stories: Amelio Robles Ávila: Transgender Fighter in Mexican Revolution
More stories: Why Are So Many Bisexual Women Sexually Assaulted?
More stories: These Corporations Don a Rainbow Flag & Donate to Anti-LGBTQ Lawmakers
Newspaper Coverage of DOB
Many newspapers regarded the growing influence of lesbians with confusion and derision. Other publications treated the gay liberation movement as a strange novelty, as though it were society's newest controversial fad. 
A 1969 story from The New York Times News Service opened the piece with this line:
"The young homosexual woman, to an increasing degree, is refusing to live with the limitations and restrictions imposed by society and is showing a sense of active resentment and rebellion at a condemnation she considers unwarranted and unjust."
The piece relies heavily on input from a gay conversion 'doctor' who argues that homosexuality is a "severe illness." Amid a litany of homophobic and sexist views regarding lesbians, he contends that gay people can be 'cured' with conversion therapy. Unfortunately, this belief was prevalent throughout national coverage of the Daughters of Bilitis and the gay rights movement in general.
Furthermore, an article from the Baltimore Sun covered a symposium hosted by the DOB in Boston. Again, this 1970 piece largely regards the organization with suspicion and contempt.
One quote from the story reads: "Nevertheless, in the spirit of the so-called 'sexual revolution' and in line with other minority groups who would make peace with the world on their own terms, the 'gay ladies' are speaking out."
During the symposium, the DOB members did not share their real names for fear of losing their jobs. They noted that women's liberation groups in Boston blocked lesbians from participating for fear of appearing too controversial.
Notably, the journalist who wrote this piece for the Baltimore Sun seems incredulous that the members of the Daughters of Bilitis refused to accept they were 'sick' because they were gay: "Although society in general has moved homosexuality from the category of 'sin' to that of 'sickness,' the panelist refused to accept even the latter designation."
This panelist, a 23-year-old, remarked during the symposium: "Sick? I feel great. I don't feel sick at all. I don't see any difference between myself and my straight friends." 
Daughters of Bilitis Disbands, But Lyon & Martin Continue On
As other LGBTQ+ activist groups formed during this period of social revolution, the Daughters of Bilitis closed its national headquarters in 1970. Many chapters throughout the country continued well into the 1990s. Though the DOB was finished, Phyllis Lyon and Del Martin further pursued their activism. 
In 1970, Martin began working with the American Psychiatric Association to declassify homosexuality as a psychiatric disorder. Three years later, the APA removed homosexuality from its manual. 
In 1972, Martin and Lyon published a book called "Lesbian\Woman," which became a seminal work in LGBTQ literature. Four years later, Martin released a book called "Battered Wives" which is largely considered the first book to cover domestic violence in the United States. It jump started a national movement against domestic violence, and is still regarded as an important piece of literature in exploring the social, legal, and political issues of domestic violence. 
More stories: How Lani Ka'ahumanu Pushed For Bisexual Visibility in the U.S.
More stories: Lucy Hicks Anderson: Black Transgender Pioneer of the 1940s
More stories: How the Hatpin Panic Changed 20th Century Gender Politics
Phyllis Lyon & Del Martin Marry in San Francisco
On February 12, 2004, Phyllis Lyon and Del Martin married in San Francisco's City Hall after being together for more than 50 years. They were the first same-sex couple to receive a marriage license in the city, and more than 2,000 people attended their wedding reception. 
Lyon explained in a later interview why she and Martin felt it important to get married: "We got it started for everybody else," she said. "We didn't get married just for us. We knew it was important to a lot of other people."
Then-Mayor Gavin Newsom, who began issuing marriage licenses to gay couples despite it still being illegal in the state, praised Lyon and Martin for their decades of advocacy work. 
"They're living heroes, not just to the community they represent, but to all of us," he said in 2004. "They have struggled against forces unimaginable to me."
Became same-sex marriage was still illegal, their marriage was invalidated later that year by the California Supreme Court. However, that same court deemed gay marriage legal four years later. Del Martin and Phyllis Lyon married again in June 2008. 
Sadly, Martin died two months after their wedding at the age of 87. Lyon continued to live in San Francisco until she passed away in April 2020 at the age of 95. 
Less than three years before her death, Lyon was interviewed by the Windy City Times, an LGBTQ+ publication in Chicago. The 93-year-old was asked about why she spent her life fighting for the rights of gay people in the U.S.
"If you got stuff you want to change, you have to get out and work on it," she said. "You can't just sit around and say, 'I wish this or that was different.' You have to fight for it."
More stories: Corporations Embolden Hate When They Cave to Anti-LGBTQ Fury
More stories: Dykes on Bikes & Gay Motorcycle Clubs in the U.S.
More stories: Zazu Nova's Legacy at the Stonewall Riots