Heather Ross
Running for U.S. Congress to represent Arizona District 6
UPDATE: Arizona primaries took place on August 28, 2018. Heather Ross did not win a seat in Congress, as Anita Malik won the Democratic primary. Unfortunately, Malik lost the seat to Republican David Schweikert, who's currently under investigation from the House ethics committee for allegedly "impermissible budget expenditures, improper campaign contributions or violated financial-reporting requirements."  
Unsure how or where to vote? Scroll to the bottom of this page for voter information about Heather Ross and how to vote in Arizona's 6th District. 
Heather Ross background
Dr. Heather Ross grew up in Scottsdale, Arizona and attended public schools throughout her academic career. After graduating from Horizon High School at 16, she was accepted into Yale University with a plan to major in religious studies. However, Ross says she became interested in nursing after her aging great-grandmother moved in with the family. She received a Master's of Science in Nursing from Boston College in 2000. Afterward, Ross moved back to Arizona with her family in 2004 and joined Arizona Arrhythmia Consultants as a healthcare professional. She received a Doctor of Nursing Practice degree and PhD in Human and Social Dimensions of Science and Technology at Arizona State University.
Now an ASU professor, Ross is very involved with the School for the Future of Innovation in Society (SFIS) and Global Security Initiative (GSI). Also, she teaches a graduate program on professional ethics and is a research scientist at GSI, developing wearable technology that improves people's' lives. Heather Ross says the decision to run for Congress became clear when she was leading a health care policy class during the renewed pushed by Republicans to repeal the Affordable Care Act in Congress last year.
Heather Ross endorsements for Congress (ongoing)
Phoenix City Councilmember Kate Gallego X
Former Arizona Congresswoman Ann Kirkpatrick X
Rep. Randy Friese, D-Tucson X
Rep. Tom O'Halleran, D-Sedona X
Carpenters Local #1912 X
State Senate Minority Leader Katie Hobbs, D-Phoenix X
Arizona Building and Construction Trades Council X
Rep. Richard Andrade, D-Glendale X
Arizona House Minority Leader Rebecca Rios, D-Phoenix X
Learn about Rebecca Rios' platform as she runs for Arizona Senate
Heather Ross platform on state & local issues in Arizona
Immigration & DACA
In February 2018, Ross appeared with the Arizona Anti-Defamation League to call for immigration reform and protect DACA recipients. On the topic of family separation, Ross points the the needless and lifelong trauma that children – especially those under 5 – endure when they are taken away from their parents at the border.  "This is exactly why we need healthcare experts in Congress – to ensure that our policies do good, and not harm … We must end this inhumane practice immediately."
Similarly in a Facebook Live video, Heather Ross again called for the end of family separations and said that America is better than this. "I have been absolutely horrified by the way that America has been treating immigrants at the borders. My heart breaks and I'm sick about the damage that's being done to kids that are being separated from their parents," she said. 
Clean energy
Ross supports utilizing clean energy resources in Arizona, including solar and wind. For instance, she points to the many health conditions worsened by air and water pollution, as well as the vulnerability of our dependence on a centralized energy grid from Russian hackers. Saying "Arizona's economic future is clean," Ross argues that the growth in solar energy presents a major opportunity for the local economy to provide well-paying jobs for the middle class, something that Congress can make happen. Furthermore, she says "Arizona should be leading the way for the nation on solar energy."
RELATED: Rebecca Wininger is running for Encanto Justice of the Peace
Education funding
Calling education "the cornerstone of America's democracy," Heather Ross says fair access to quality education and job trainings should be available to all and not just a "privilege reserved for the wealthy." She says that in order to attract and keep high-tech jobs in manufacturing and cybersecurity in Arizona, the 6th district needs representatives in Congress that supports a labor force that's well-educated and prepared for the industry through job training programs.
In addition, to help ensure that the 6th district is competitive in the eyes of high-tech companies, Heather Ross calls for college to be made more affordable and to increase "support the public K-12 schools in Arizona." Specifically, she supports the #REDForED movement, which calls for raising teacher pay across the state and other reforms. 
Heather Ross platform on national issues
Healthcare & Medicare
Dr. Heather Ross says her many years of experience as a healthcare expert provides valuable expertise that's badly needed in Congress: "We need people in Congress who have experience with the complexities of healthcare." In fact, Ross calls for a range of policy changes, from expanding Medicare to lowering drug prices. Furthermore, she pointed to out-of-control drug prices levied on consumers and said that no "family should have to choose between buying food or buying healthcare." 
Medicaid/Medicare expansion
Concurrently, Arizona's 6th District has a large population of people who rely on Medicare. On Twitter, Ross said "As a healthcare provider, I know firsthand how critical Medicare is for our older adults and our entire healthcare industry – the largest industry in my district". In addition, should she win a seat in Congress, Dr. Heather Ross is in favor of expanding Medicare to people 55 years and older. She also wants to increase support of state Medicaid programs, including Arizona Health Care Cost Containment System (AHCCCS).
Moreover, Ross has been very critical of congressional GOP efforts to cut Medicare, particularly of the House Republican budget proposal that would've cut $537 billion from the program over the next 10 years. For example, the budget proposal would have allowed states to introduce work requirements for some adults on Medicare. In addition, states would be able to turn Medicaid into a block-grant program. Ross said in response to the GOP bill that "Millions of Arizonans will be crippled by healthcare bills and our economy will suffer. We cannot afford to balance the budget on the back of America's health."
Reproductive rights
In the wake of Brett Kavanaugh's nomination to the Supreme Court, Dr. Heather Ross appeared in a video to answer questions on a Pro-Life Alliance questionnaire she received in the mail. Here are Ross' yes or no answers (full video):
Would you support federal legislation giving parents the right to stop any abortion from being performed on their minor daughter, except to save the life of the mother?

No.

Would you support requiring a 48-hour "cooling off" period, and mandatory counseling on the risks and consequences of abortion for persons

[women]

who believe they may want to have an abortion?

No.

Would you vote to require that abortion providers show the mother an ultrasound image of her child before any abortion takes place?

No.

Will you support legislation to outlaw so-called "sex selection" abortions?

No.

Would you vote to prohibit the U.S. government from granting any public funds to groups that perform abortions?

No.

Should the federal government bar the distribution of "home abortion drugs" like RU-486?

No.

Will you support nominees to the United States Supreme Court and the lower federal courts who will uphold the constitutional right to life of every human person born and unborn?

Not applicable.

Will you support legislation which, under Article 3 Section 2 of the U.S. Constitution would remove from the federal courts jurisdiction over the question of abortion?

Maybe.

Would you support and co-sponsor a Life at Conception Act, defining that life begins at the moment of conception, thereby resolving for all time as stated by the Supreme Court in Roe v. Wade the difficult question of when life begins?

No.

Will you support an amendment to the U.S. Constitution banning abortion except to save the life of the mother?

No.
If you can spare the 7 minutes, I suggest you watch the video yourself to see Ross' full answers.
LGBTQ rights
Currently, federal law does not protect Americans from discrimination based on sexual orientation or gender identity. With this in mind, the Equality Act is a House bill proposed back in May 2017 that amends a number of civil rights laws, including the Civil Rights of 1964 and Fair Housing Act. This bill in Congress explicitly adds protections for sexual orientation and gender identity. After the Supreme Court's Masterpiece Cakeshop decision which largely left major questions about religious freedom and LGBTQ rights unanswered, Heather Ross pledged her support in passing the Equality Act on Twitter, saying "depending on narrow court decisions isn't a solution."
Gun control
Heather Ross supports universal background checks and closing the gun show loophole in Arizona. Moreover, she calls for establishing a digital gun registry at the federal level so "law enforcement officials can do their job to protect American families." That being said, Ross is in favor of allowing states to make their own concealed carry laws. In a Facebook video, Ross says, "Concealed carry laws should be in the hands of the states. Every state in the Union should not suffer from the lowest state's most permissive concealed carry laws."
Pay gap
To mark Equal Pay Day, Ross said on social media the day "represents the 15.5 months the average women must work to make what a man does in 12." In addition, she calls for spreading awareness on the factors that contribute to the pay gap. Lastly, it should be noted that Dr. Heather Ross has invested a lot of her time throughout her tenure on educating and empowering women and girls to pursue careers in science and technology.
#MeToo Movement
During a Q&A session on Twitter in April 2018, Ross shared her experiences of sexual harassment throughout her career as a nurse, but "it has been much uglier since day 1 of my campaign for Congress." Also, she said sexual harassment and abuse thrives in silence and darkness, so she pledges to "build a safe place for people to have those conversation, and to shine a light on the sexual predatory behavior."
RELATED: Lina Hidalgo for Harris County Judge – Women Running For Office Project  
Net neutrality
One week before the FCC vote on net neutrality in December 2017, Ross participated in a Q and A session with ASU Now to explain what a repeal of net neutrality would look like and how consumers could be affected. Firstly, Ross says many political candidates fear that Internet Service Providers (ISPs) could target political websites and activists. For example, ISPs may hammer sites with slowed internet speeds or other restrictions. In the realm of healthcare, Ross points to how dependent we are on electronic medical records (EMRs) as the vast majority of medical practices rely on storing medical information electronically. Moreover, she says slowed internet speeds "could impact healthcare providers' efficiency in the hospital … or force [them] to pay more to their ISP to ensure their EMRs function at a higher speed."
Arizona election information
Arizona 2016 election results
In the 2016 presidential election, Donald Trump won Arizona by 4 points. However, four counties (Pima, Coconino, Apache and Santa Cruz) voted for Hillary Clinton. In 2012, Mitt Romney carried the state by 9 points.
Arizona early voting
Arizona early voting opens on August 1st and ends on August 24. Don't know which Arizona district you belong to? Use this tool to find your voting district based on home address.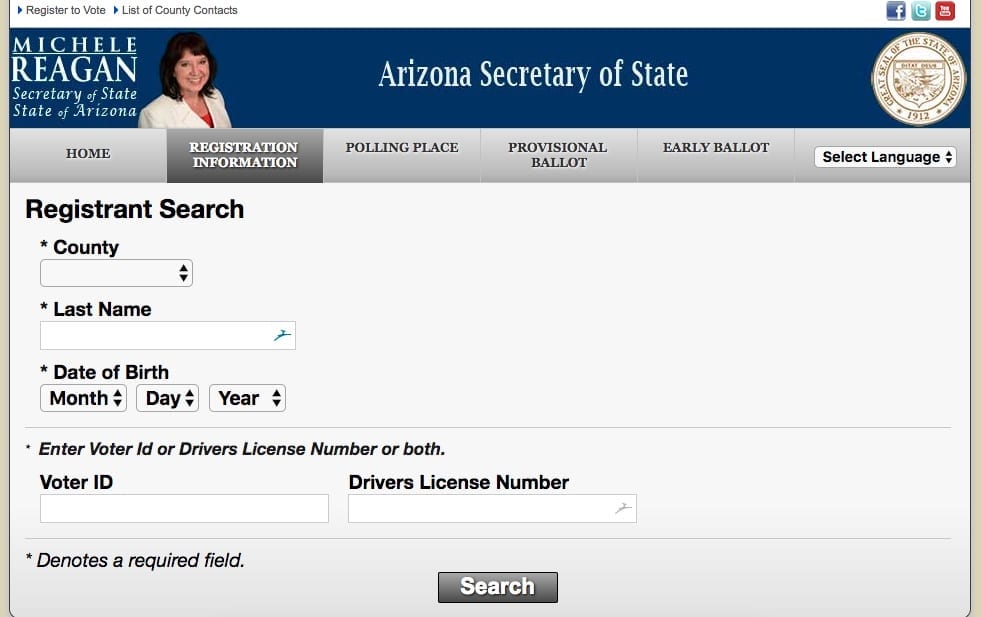 Lastly, the last day you can register to vote in the 2018 primaries in Arizona is July 30. Wondering how to register to vote in Arizona? You can update your voter information here. On the right, you can find out if you're already a registered voter.
Cómo registrarse para votar o actualice su información electoral actual en español.
Please note that you CANNOT register to vote on Election Day in Arizona.
Where do I vote in Arizona
If it's Election Day and you don't know where to vote today, use this tool to find your voting district based on home address. However, if for some reason this tool doesn't work for your address, find your polling location for the 6th District from this list.
What do I need to vote?
In order to vote in the Arizona primaries and general election, here's what you need to bring to prove citizenship status. Lastly, I stumbled upon this really helpful site called Arizona.Vote that will probably have the information you didn't find here.
More ways to support Heather Ross for Congress
Visit her official campaign site
Donate to Ross's campaign
Like her Facebook page @HeatherForAZ
Follow her on Twitter @HeatherforAZ
Connect with Ross on Instagram @heatherforaz
Hashtags to use when talking about Dr. Heather Ross
#ElectDrRoss
#AZ06
#azpol
#BlueWave2018
#PinkWave
Shari Rose is a freelance writer based in Los Angeles. Follow her on Twitter @blurredbylines or like Blurred Bylines on Facebook. Women Running For Office Project posts ≠ endorsements.
Copyright© 2018 Blurred Bylines