Whitewashing in Hollywood: 2000 – 2019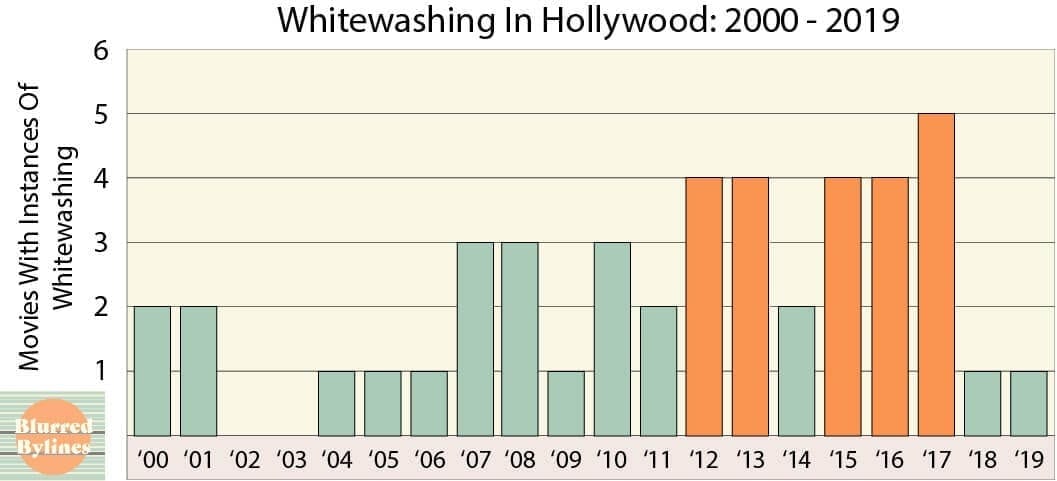 Taking a closer look at whitewashed movies in the last 20 years
By Shari Rose ~ December 31, 2019
Lots of trends are making a comeback in Hollywood. From the live-action remakes of classic stories already processed and sold to the masses a generation before, to the rise of biopics once again, the industry is enjoying a bit of a throw-back phase. Unfortunately, there's another long-standing trend in Hollywood rearing its ugly head in the 21st century: whitewashed movies.
Whitewashing in Hollywood is the well-documented practice of movie executives and other decision makers to choose white actors to portray people of color on film. One of the most famous cases of Hollywood whitewashing involves Mickey Rooney portraying an Asian character in 1961's Breakfast at Tiffany's. His makeup included buck teeth, slanted eyes and other over-the-top offensive features.
While the outlandishly racist portrayals of racial and ethnic minorities have been rightfully tossed in the dustbin of history, decisions to cast white actors as non-white people is far from over. In fact, whitewashing in Hollywood appears to be on the rise in the 2010s.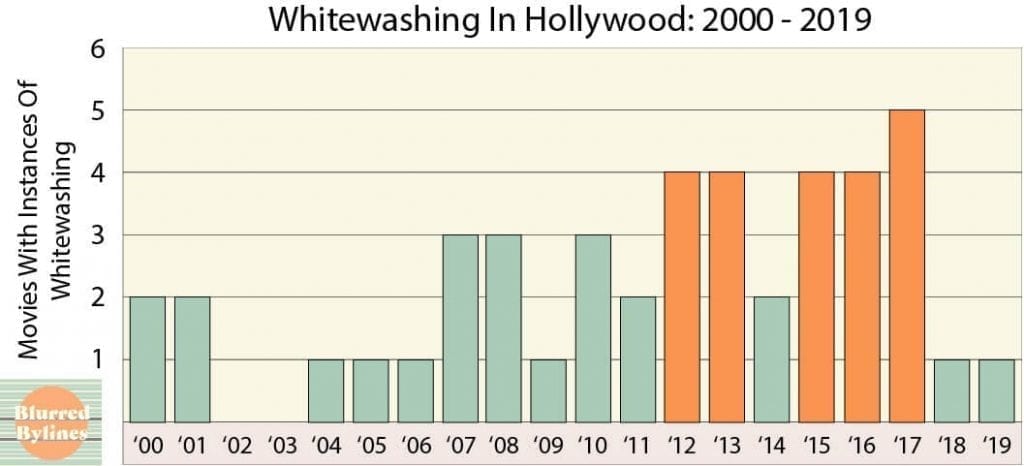 Far from a thing of the past, 2017 saw the most whitewashed movies of the year, with a total of 5. These movies include Ghost in the Shell (Scarlett Johansson), The Beguiled (Kirsten Dunst) and The Post (Bob Odenkirk). For a full list of whitewashed Hollywood movies in the last 20 years, please scroll to the bottom of this post.
Examples of Whitewashed Movies of the 2000s
The Last Airbender
This 2010 movie is based on the Nickelodeon animated show set in Asian and Inuit-inspired universe. However, three of the movie's four main characters are white. The fourth character, villain of the movie, is portrayed by an Indian actor. The film received harsh criticism from fans and non-fans alike for its casting choices. The film's director, M. Night Shyamalan, defended the movie, saying "I don't know what's going on with me and the critics in the United States … they've never got me and it's getting worse … The tonalities are changing. I always had a European sensibility to my movies. The pacing is always a little bit off for them, and it feels a little stilted, and they need more electricity and all that stuff." The Last Airbender is currently rated 5% on Rotten Tomatoes.
More Stories: How Isaac Wright Jr Overturned Lifetime Conviction & Exposed Widespread Police Misconduct
More Stories: How To Find Gay Friends & Join The LGBTQ+ Community In Your Town
Stuck
Stuck is 2007 film based on the real-life incident involving Chante Jawan Mallard and Gregory Biggs. Mallard was convicted of killing Biggs by hitting him with her car, refusing first aid and leaving him to die still lodged in her windshield. Mena Suvari was chosen to play Mallard, an African American woman. Stuck faced criticism for whitewashing at the time of the film's release.
The Dark Knight Rises
Bane, Batman's nemesis in the 2012 film and the baddie who infamously "broke the Bat," is Latino. Bane was born in Peña Duro, a prison found in Santa Prisca, a fictional Latin American island country. However, English actor Tom Hardy was chosen to portray the role. Though it shouldn't have surprised fans of the DC movies: The character of Ra's al Ghul in Batman Begins (2005) is Middle Eastern, but Liam Neeson was chosen to play the character, whose name is in Arabic.
The Impact of Whitewashed Movies
There are plenty of aruguments made by directors, executives and actors that seek to defend the decision to hire a white actor to play a non-white person. From "there were no good POC actors available" to "it's just an acting job – no offense intended," there is no shortage of excuses from moviemakers when faced with criticism or outrage.
For better or worse, actors are some of our nation's most widely recognized storytellers. They're the heroes in our favorite movies, they portray shared experiences that can make the audience feel a little less alone and a little more connected. When a POC actor is refused a seat at the table in favor of a white actor to portray a POC, it alienates huge segments of the movie's audience and frankly betrays the underlying racism that's still so pervasive casting process. And as movie executives are slowing beginning to learn, online outrage over a movie's casting choices is very bad for business.
Hollywood would do itself a favor by catching up with the times here. With every instance of whitewashing that's brought to the big screen, the industry betrays itself as an out-of-touch and increasingly irrelevant moneymaker that believes it knows better than its own audience. As 2020 brings the most racially diverse audience Hollywood has ever seen, the question of whitewashing will just have to be answered at the box office.
Whitewashed Movies of the 2000s
| | | | | |
| --- | --- | --- | --- | --- |
| Movie | Character | Race/Ethnicity Portrayal | Hollywood's choice for actor | Year of film's release |
| The Curse of La Llorona | Anna Tate-Garcia | Latina | Linda Cardellini | 2019 |
| Annihilation | Lena | Asian American | Natalie Portman | 2018 |
| The Post | Ben Bagdikian | Armenian American | Bob Odenkirk | 2017 |
| Jungle | Yosseph Ghinsberg | Israeli | Daniel Radcliffe | 2017 |
| The Beguiled | Edwina | African American | Kirsten Dunst | 2017 |
| The Ottoman Lieutenant | Ismail Veli | Turkish | Michiel Huisman | 2017 |
| Ghost in the Shell | Motoko Kusanagi | Asian (manga) | Scarlett Johansson | 2017 |
| The Promise | Ana Khesarian | Armenian | Charlotte Le Bon | 2016 |
| Whiskey Tango Foxtrot (adapted from The Taliban Shuffle) | Fahim Ahmadzai and Ali Massoud Sadiq | Afghan | Christopher Abboytt and Alfred Molina | 2016 |
| Gods of Egypt | Egyptian gods, including Horus and Set | Egyptian | Nikolaj Coster-Waldau and Gerard Butlet | 2016 |
| Doctor Strange | The Ancient One | Himalayan | Tilda Swinton | 2016 |
| Aloha | Allison Ng | ¼ Chinese and ¼ Hawaiian | Emma Stone | 2015 |
| Stonewall | POC, particularly transwomen, drag queens and lesbians | Queer womxn of color | Jeremy Irvine, Jonny Beauchamp, Joey King, Caleb Landry Jones, Matt Craven, etc. | 2015 |
| The 33 | Maria Segovia | Chilean | Juliette Binoche | 2015 |
| Pan | Tiger Lily | American Indian | Rooney Mara | 2015 |
| Exodus: Gods and Kings | Biblical figures, including Moses and Ramesses II | Egyptian | Christian Bale and Joel Edgerton | 2014 |
| Edge of Tomorrow | Keigi Kiriya (renamed Bill Cage) | Japanese | Tom Cruise | 2014 |
| Warm Bodies | Nora | Half Ethiopian, half white | Analeigh Tipton | 2013 |
| The Big Wedding | Alejandro Soto Griffin | Colombian | Ben Barnes | 2013 |
| Star Trek Into Darkness | Khan Noonien Singh | Indian | Benedict Cumberbatch | 2013 |
| The Lone Ranger | Tonto | Native American (either Comanche or Potawatomi) | Johnny Depp | 2013 |
| Argo | Tony Mendez | Mexian American | Ben Affleck | 2012 |
| The Hunger Games | Katniss Everdeen | Described as having "black hair and olive skin" | Jennifer Lawrence | 2012 |
| Cloud Atlas | Hae-Joo Chang | South Korean | Jim Sturgess | 2012 |
| The Dark Knight Rises | Bane | Latino | Tom Hardy | 2012 |
| Drive | Irene | Latina | Cary Mulligan | 2011 |
| I Don't Know How She Does It | Momo Gumeratne (renamed Mom Hahn) | Sri Lankan | Olivia Munn | 2011 |
| Prince of Persia | Dastan | Persian (Middle Eastern) | Jake Gyllanhal | 2010 |
| Avatar: The Last Airbender | Ensemble, including Aang, Katara and Sokka | East Asian and/or Inuit | Noah Ringer, Nicola Peltz and Jackson Rathbone | 2010 |
| The King of Fighters | Kyo Kusanagi | Japanese | Sean Faris | 2010 |
| Dragonball Evolution | Goku | Japaense (manga) | Justin Chatwin | 2009 |
| Wanted | Fox | African American | Angelina Jolie | 2008 |
| Speed Racer | Speed Racer | Japanese (manga) | Emilie Hirsch | 2008 |
| Bringing Down the House (adapted to 21) | Kevin Lewis (renamed Ben Campbell | Asian American | Jim Sturgess | 2008 |
| A Mighty Heart | Mariane Pearl | Afro-Cuban and Dutch | Angelina Jolie | 2007 |
| 30 Days of Night | Eben Olemaun (renamed Eben Oleson) | Inuit | Josh Hartnett | 2007 |
| Stuck | Chante Jawal Mallard (renamed Brandi Boski) | African American | Mena Suvari | 2007 |
| World Trade Center | Jason Thomas | African American | William Mapother | 2006 |
| Batman Begins | Ra's al Ghul | Middle Eastern | Liam Neeson | 2005 |
| The Passion of the Christ | Biblical figures including Jesus, Mary and John | Middle Eastern | Jim Cavizel, Maia Morgenstern and Christo Jivkov | 2004 |
| A Beautiful Mind | Alicia Nash | Salvadoran American | Jennifer Connelly | 2001 |
| Bully: A True Story of High School Revenge (adapted to Bully) | Bobby Kent | Iranian American | Nick Stahl | 2001 |
| The Human Stain | Coleman Silk | African American | Anthony Hopkins | 2000 |
| Pay It Forward | Rueben St. Clair (renamed Eugene Simonet) | African American | Kevin Spacey | 2000 |